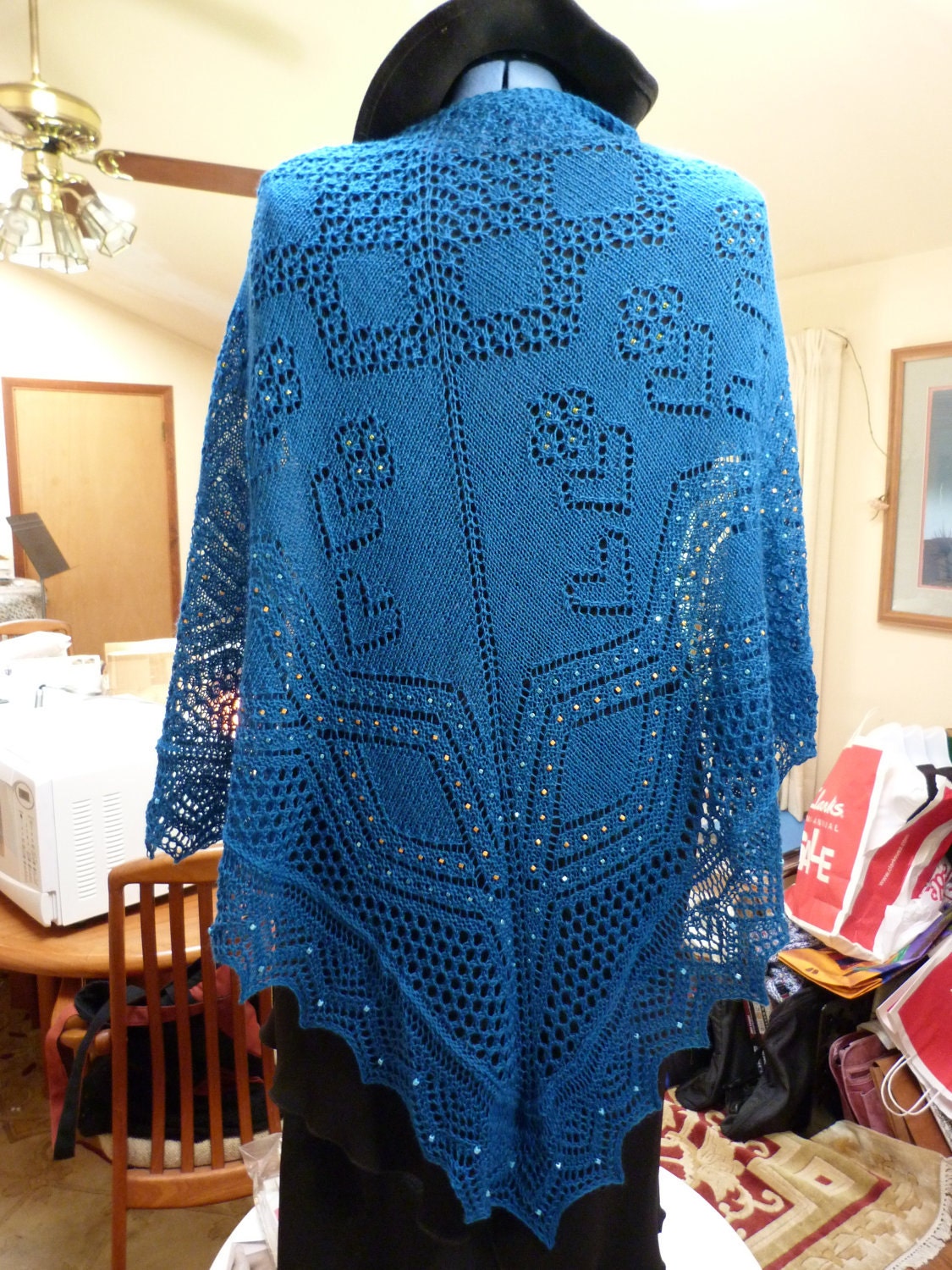 This pattern is designed to have some flexibility in sizing and to work with both fingering and lace weight yarns. The sizing is determined by the number of repeats in the first section. Using the smallest number of repeats possible and fingering weight yarn, the final shawl size was around 66" wing span and 38" down the center back.
The fingering weight shawls were knitted using US 5 (3.75 mm) and had a gauge of 7.5 st. and 11 rows per inch. The yarn used in the fingering weight shawls was JoJoLand's Melody for the varigated and Ballad for the solid. The brown lace weight shawl, made using Isager Alpaca 1, was knit on US 1.5 (2.5 mm) needles and was made 2 repeat sets larger. The final size of the brown shawl is the same size but is a much finer/airier finished shawl.
The pattern will take between 900 and 1200 yards of yarn depending on the size. Stitches used in this pattern are the usual lace stitches - yarn over, k2tog (and its counter part), & k3tog (and its counterparts). The first portions of the pattern are knitted with patterning done on the right side rows only (the wrong side row is a rest row). The bottom border however, is knit with patterning in all rows (no rest rows). The lace edging along the bottom is knit as the shawl body is 'cast off' so no sewing is required when the knitting is finished.
The pattern has both written and charted directions for the lace patterns. There is some optional beading in the pattern and the pattern uses both the crochet hook and prestrung methods for the beading.
This would look wonderful with Poems Sock, Saki Bamboo, Whisper Lace, Alpaca Lace, Heritage, Kid Seta, Cherub Baby, Baby Ull, On Line Supersocke, and Huasco yarns.