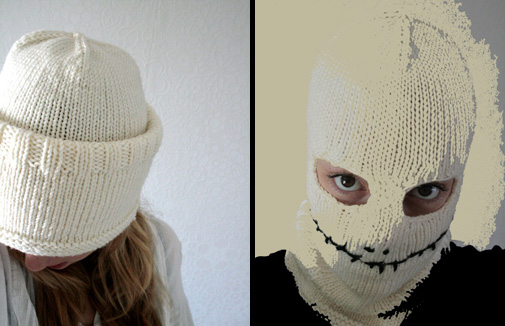 Jackyll & Hide Hat KAL
It's not what it seems.This hat that looks quite angelic folded up, but once pulled down not only turns into warm and comfortable snow protection, but also doubles as a pretty mean hideaway. It's a great hat for skiers and snowboarders, adjustable to all kinds of winter weather. And it makes for a rather original Halloween accessory.
The design is mostly inspired by the character Jack Skellington from the animated movie 'The Nightmare before Christmas' by director Tim Burton.
Dates:7 Oct & 21 Oct from 4:30 - 6:30
Worsted Weight Yarn = 350 yds
Small amount of black yarn, used for embroidery only.
1 set of 5 US #8/5mm double-point needles
1 16-inch US #8/5mm circular needle (optional)
Tapestry needle (for weaving in ends)
Sharp needle with large eye (for working embroidery)
No Registration necessary.
Baby Socks: knitting in the round on double-pointed needles












During this class, participants will learn how to knit in the round on double-pointed needles while creating a pair of adorable baby socks/booties. This class is for adventurous beginners who are comfortable with knitting and purling.
Instructor: Katie Brousseau
Fee: $35 includes pattern, yarn, needles, and instruction time
Dates/Times: Wednesdays October 8th, 15th and 29th: 7-8:30pm
To register, please stop on by the shop, call us at (505) 672-2008 or send an email to classes@warmheartsyarn.com. We appreciate 24 hour class registration notice so we are best able to prepare for our students. Thank you!